WE ARE AUCKLAND BASED but have a nationwide application and install network developed over our staff's combined 40 years in the signage industry. This is reflected in our large number of corporate clients and their testimonials accumulated over the years of our loyal service to them.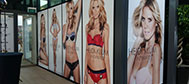 IN TODAY'S INCREASINGLY competitive marketplace your company image is vital. It is the public's first perception of you and your first opportunity to make a positive impression on potential customers.
WELL DESIGNED SIGNAGE and a company branding program can instantly and effectively communicate the style, professionalism and overall presence of your business. It needs to convey to people who you are and what you do in an instant.
THE TEAM AT HUNTER SIGNS has considerable experience when it comes to coping with demanding projects, tight deadlines and extremely high production standards. We pull out all the stops when it comes to completing your business signage.